Buying an InstaSculpting machine has never been easier
Our machines are manufactured in California and can ship immediately to your location. Your training can begin immediately and your team will be ready to sell sessions in less than 24 hours. Financing is available with low monthly payments!  Contact us today to discuss the best options.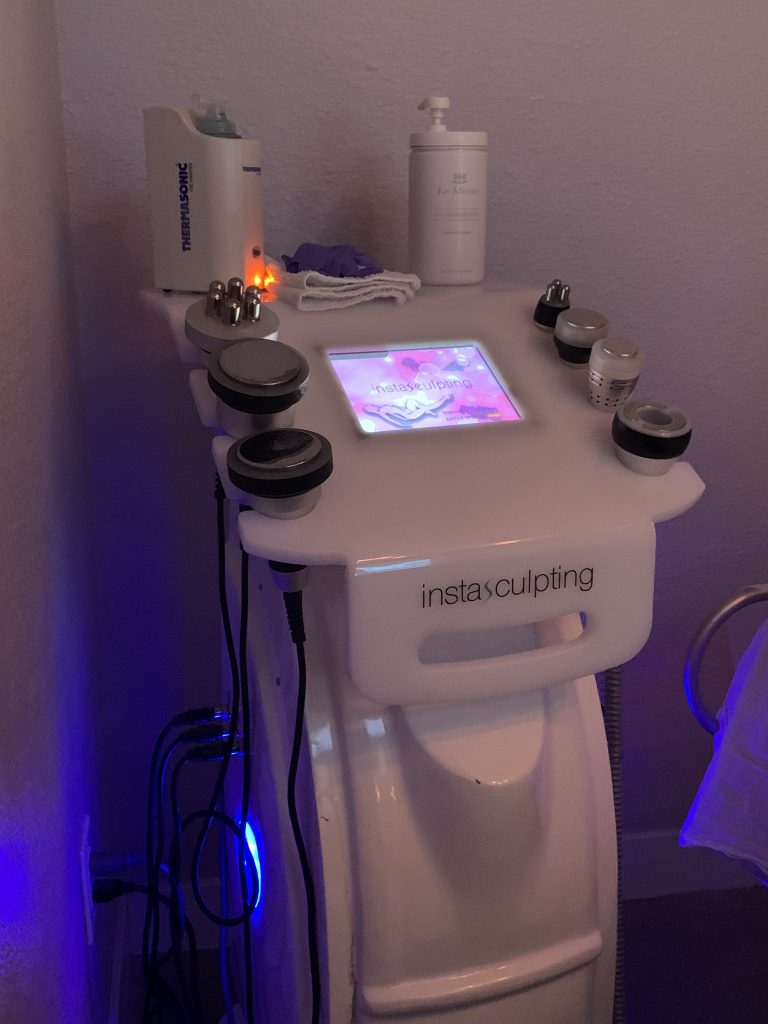 This is what you get:
The InstaSculpting machine package is a complete solution that includes marketing materials for effective promotion, a warranty for peace of mind, comprehensive training, and a certificate of completion to showcase proficiency.
GET IT NOW!
F.A.Q
How does Ultrasonic Cavitation work?

Cavitation is the use of low-frequency ultrasounds to penetrate the skin and cause fat cells to breakdown. The fat cells cannot withstand the pressure of these vibrations, causing the cells to implode into a liquid form and pass through the body.
Where do the fat cells go?

Your body absorbs the fact and it passes through the liver and comes out as waste. The fat cells are broken down but the cells have the capacity to grow again with a high calorie diet.
Where are the best parts of the body to use Ultrasonic Cavitation on?

Cavitation is best used on areas of localized fat. This includes areas such as the upper arm, thighs, abdomen, hips, and buttocks. It cannot be applied to bony areas such as the head or neck.
How long is treatment?

The service is tailored to the individual. Generally however, most treatments are between 45 minutes to 75 minutes long. Multiple areas of the body can be treated during one session
How long until I see results?

Most people will have a noticeable reduction in their measurements after the very first treatment! The fat removal process continues for up to one week following treatment, so it may decrease further a few days afterwards. Note that results may vary due to differences in metabolisms.
Is the procedure painful?

You may feel a slight heat sensation or tingling, but otherwise the treatment is painless.
Does the treatment require time off afterwards?

No! You can go right back into your daily routine. We do recommend that you increase your water intake to two liters (about six or eight cups) of water a day to help with fat removal.
InstaSculpting Clinical Insights
Dive deep into the science behind InstaSculpting. This section presents meticulously curated clinical trials, offering a transparent view into the efficacy and advancements of our InstaSculpting procedures. Understand the research, trust the results.
"Use of Ultrasound Focused Cavitation reduced the layer of fat in the abdominal area abdominal region…"

Learn More

"Ultrasound cavitation induced a statistically significant reduction in the size of the adipocytes (fat cells)… Clinically, the ultrasound treatment caused a significant reduction of abdominal fat…"

Learn More

"The biochemical analysis of plasma lipid changes provided further evidence supporting the treatment efficacy of low-intensity ultrasound in subcutaneous fat reduction…"

Learn More
See the InstaSculpting machine in action